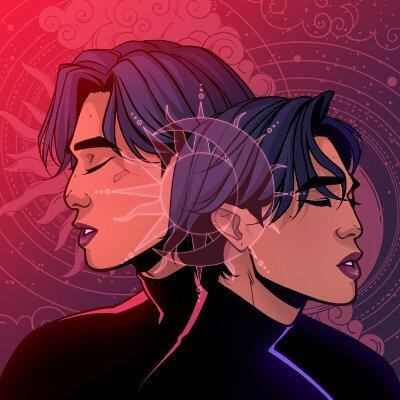 let me love you: a jikook zine
about
theme
- duality: opposites attract
- surrounding the idea of love constantly being in flux, pushing and pulling (or existing in contrast and in complement), and brought to the ways in which jimin and jeongguk embody this idea in their dynamic relationship!
- contributors will explore opposing themes in colours, content, fashion, and more in their works!specifications
- the zine will be an a5, perfect bound book available in both digital and physical formats. a variety of merchandise will also be available!
- accepted artists will create either a vertical/single-page illustration, horizontal/double-page illustration, 1-page comic, OR 2-page comic.
- accepted writers will create either a piece that is within 2.5k and 3k words.
- contributors may choose to create sfw or nsfw content.purchasing 18+ content
⚠️ both sfw and nsfw work will be included in one singular physical zine.
⚠️ final physical zine products with 18+ content will only be available to 18+ supporters
⚠️ IF YOU ARE UNDER 18: you may purchase merch or a digital sfw zine separately! please note that regular adult approval for purchasing items will apply.disclaimer
- please note that this zine is focused on jeon jeongguk and park jimin, and does ship real people.
- we acknowledge the grey areas of rps (real person shipping) and want to assert that we intend no disrespect toward jeongguk and jimin as artists and individuals, nor do we approve harassment towards them or other fans regarding this matter.
- any of the relationships portrayed in this zine between the two of them are not claimed to be real, particularly in regard to any nsfw aspects or content.
- we hope that our followers who enjoy jikook (or any passerbys who do not) will conduct themselves with respect for jeongguk, jimin, the ideas and creativity of our contributors, and the supporters of our project. thank you!
schedule
| section | date/time (EDT) |
| --- | --- |
| zine launch | sep 6 |
| interest check | sep 9 |
| mod apps | sep 17 |
| mod emails sent | oct 3 |
| contributor apps open | oct 13 |
| emails sent | nov 18-19 |
| first check-in | dec 18 |
| second check-in | jan 2022 |
| third check-in | march / april |
| final submissions | may 21 |
| preorders open | june 4 |
| preorders close | july 9 |
| current status | complete! |
faq
what is a zine?
- zines are fanmade magazines that focus on a singular topic and are usually filled with artwork and writing, although there are many that focus on one over the other. they can be either physical books, digital pdfs, or both.what is this zine's theme?
- the zine focuses on jimin and jeongguk's relationship and the ways in which they are alike and different. contributors will create content showcasing their duality as individuals or as a couple, inspired by phrases such as "opposites attract" or by iconic moments or outfits (e.g., dressing in opposite or complementary colours).do jimin and jeongguk have to have a romantic relationship?
- not necessarily, but they will most likely be depicted in an explicit or implied romantic relationship!where will the profits go? will the contributors be compensated?
- this zine is a for-profit zine, so all net profits after production and shipping will be divided between contributors.
- we aim to gift our contributors a full bundle and shipping for free. if the profit margin is not high enough, we will offer lower tiers (e.g., free shipping and at-cost items). at minimum, all contributors will receive a full digital bundle for free.what content is prohibited?
- gore and any of kink or scenario that is nonconsensual or underage. for a more comprehensive list, please email or dm us.
- (included contents will be appropriately tagged in the zine's table of contents and listed in our store during preorders)how many contributors are included in the zine?
- 16 artists (9 sfw / 7 nsfw)
- 7 writers (4 sfw, 3 nsfw)
- 2 merch artists (sfw)
contributors
writers ‧₊˚✩彡cain (jiminc3st) ♡ vminkookminv ♡ janine (ilyjjk) ♡ lyv (my_hope1994) ♡ t (mochiskooo) ♡ theo (punimsarple) ♡ xiao (luminaraed)page artists ‧₊˚✩彡ai (aish_ish14) ♡ batty (thorntohisrose) ♡ celi (cherymochii) ♡ dan (rkisbb) ♡ didi (witchmeetsevil) ♡ esha (unnie_sha) ♡ kata (katamism) ♡ kuro (kurokomi25) ♡ lully (_lullynn) ♡ mina (minaislate) ♡ sara (sarbidraws) ♡ sasha (hattee_ho) ♡ saucehair (saucehairr) ♡ staar (staary_eyes) ♡ winter (winterleonessa)merch artists ‧₊˚✩彡faith (unmeiartist) ♡ ian (starry_ian) ♡ kata (katamism) ♡ sasha (hattee_ho) ♡ staar (staary_eyes)cover artist ‧₊˚✩彡faith (unmeiartist)
---
mod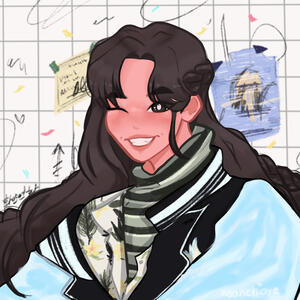 favorite jikook moment: it's so hard to pick, they're so cute!! jikook backhugs remain superior, but the cpr moment on the love yourself tour is honestly peak comedyextra: my fave song sequence is 134340, paradise, love maze, and magic shop!
cara 🥂
she/herprevious experience:
cara is the remaining mod of the original mod team. she has previously completed solo modding projects before and has extensive zine/project experience listed on her carrd!